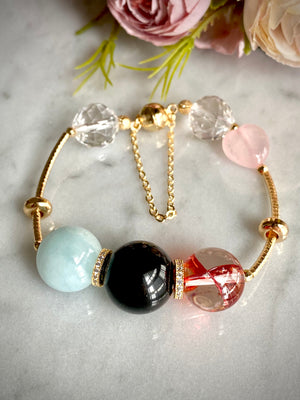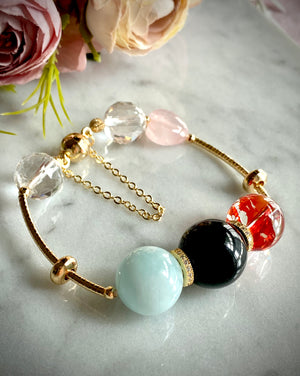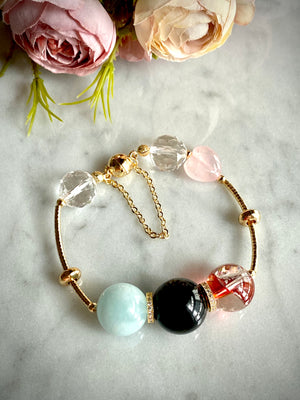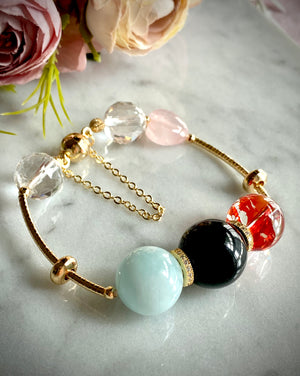 Trio Gems Bracelet
Design with Aquamarine, Obsidian, Phoenix Feather crystal, white crystal and rose Quartz. Magnetic closure for ease of wear. 

Fits 14cm to 16cm wrists
Size 14mm beads 
14k gold plated jewelry findings, costume jewelry grade 
Do not shower with bracelet. 


海蓝宝水晶
Aquamarine Crystal Gemstone
海蓝宝的蓝色对应喉轮,有助于加强沟通及表达能力。常用海蓝宝作冥想,与形而上的力量可达到某种程度的沟通,因而对时间及空间运用都能掌握,是一种象征爱与和平的宝石。

Aquamarine is the birthstone for people born in March.

Aquamarine is its ability to shield your aura and protect you from negative vibrations.

It allows you to tune into your own emotions and to balance any excesses or mood swings. Aquamarine is also a very useful stone for cleansing and aligning your chakras.
黑曜石
Black Obsidian
黑曜石有靈性,為你承受所有負面的能量、可以避邪、保護你不受小人的威脅,它就像是一個默默守護著你的黑騎士,很多時候,它還能為你減緩身體不適喔!戴右手挡负能量,左手招财!

It is a highly protective stone that forms a shield against dark and negative energy. It also promotes qualities of compassion and strength. Wear on the right hand for protection and left hand to attract wealth and luck!

风羽晶
凤羽晶水晶有白水晶的功效,具有调节心绪的功效,能使人释放出内心的负能量,起到愉悦心情的作用。