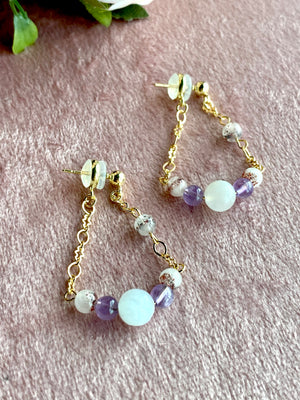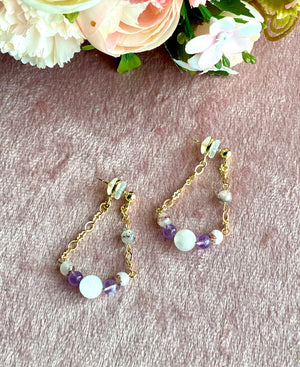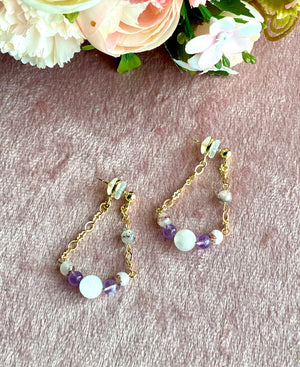 Super Lucky Earrings
Wear crystals in style with this pair of super 7 & Blue moonstone crystal earrings. 
14k gold plated jewelry findings
超七,屬於三輪骨幹水晶,又稱作神聖七,是一種產量極少,擁有高頻率能量大的水晶。因為同時共生了七種礦物,包含 紫水晶、茶晶、白水晶、黃磷鐵礦、針鐵礦、纖維礦、金紅石,因此被稱作超級七。

所以基本上它拥有全方面的功效。包括 財富、愛情、人緣、健康、親情、貴人、溝通、靈性、平衡、並且能夠淨化負面情緒,緩和情緒創傷,提升正面能量,让配戴者可以事事順利!

超七水晶如果與其他水晶一起配戴,可以加強其他水晶的能量,讓功效更明顯!

Super Seven is a potent healing ally—bringing you protection, release of negative emotions and past patterns, and purification of our soul, allowing you to reach a place of clarity, focus, creativity, and positivity.
This stone is a combination of seven different crystals, therefore carries the properties of all seven crystals as one. It is for the same reason that it is one of the most powerful stone available for all purposes. Super Seven retains its own energy in abundance and never requires cleansing or energizing. It can also amplify other crystals when worn together.