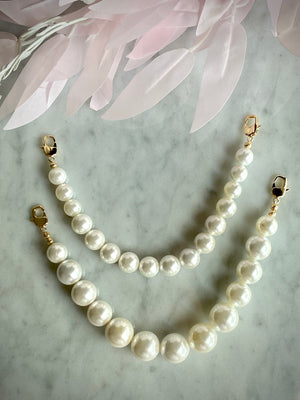 Shell Pearls Bag Charm / Top Handle
Convert your bag into a top handle bag or dress it up for a different look! Customized a shell pearls bag charm with us today! 
Prices starts from RM90 depending on length and bead size  
Note: 23cm in length will fit a Chanel Medium Size Flap bag 
Shell Pearls are made from the inner lining of oyster shells, also known as Mother of Pearl. The substance is ground to a fine powder, shaped, dyed and coated with natural pearl nacre and then a protective coating to give it lustre. Shell pearls are much less expensive than saltwater pearls. In addition, shell pearls will keep their color and shine and will not be affected by sweat and perfume. Indeed, they are more durable than cultured and freshwater pearls.