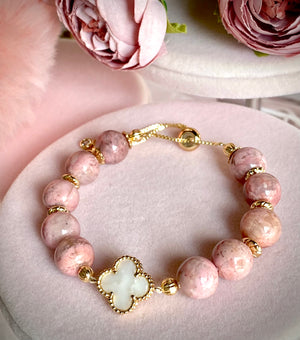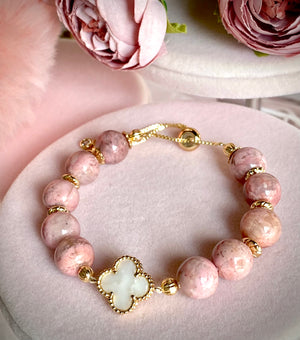 Rhodonite Peace Bracelet
A piece of jewelry that projects love and sweetness. Fall in love all over again with this beautifully designed Rhodonite bracelet.
10mm bead size 
Free size, adjustable length
14k gold plated jewelry findings 
Benefits:
Rhodonite
Rhodonite represents compassion and love. One who wears rhodonite can stir up all the pleasure if the hearts, sending loving and positive vibes to those around them. Rhodonite can be an amazing relationship counsellor to get your love life back on track. It's a stone that encourages mutual understanding and the ability to embrace compromise from a place of pure and honest acceptance.
蔷薇石

蔷薇石能增进爱情,情侣之间的感情和修补感情纠纷。它也助于消除人们心中的迷惑,增加个人的亲和力和有助于促进对他人的包容心。
*Do not shower with bracelet. Avoid contact with perfume or alcohol. Wipe clean and placed in zip pouch provided and store in cool dry place.