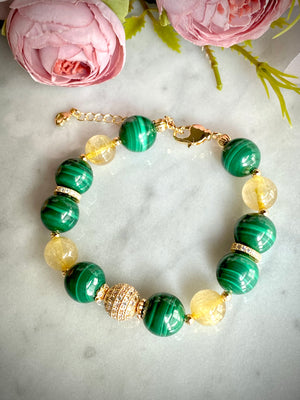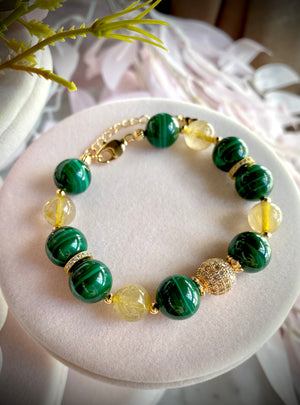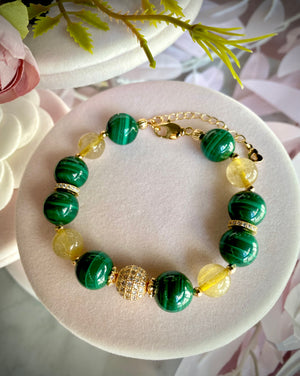 Prosperity Malachite
Malachite
Malachite is here to help us in times of transformation. For those ever ready to embrace new leaps or clinging to the edge of something, Malachite gifts you the strength to prune your inner branches and say yes to new growth. Malachite can work its magic to balance your body, mind, soul and protects from harm.

孔雀石

孔雀石能够安抚情绪,释放负面能量。它有爱,保护,生意成功和安定的作用, 让佩戴者有勇气做任何事情。它也有警示的功用,在危急时可能会破裂来警告戴的人。
Gold Rutilated Quartz
Gold rutilated Quartz helps in filtering negative energies and protects from harm. The golden rutilated quartz works well within all your chakras, buts it mainly works with the solar plexus, seat of the will. It allows you to use your energy to manifest prosperity and abundance in your life. In addition, it amplifies and magnifies the energies of any other crystals touching it.
金发晶

金发晶是水晶中的上品,寓意吉祥如意,万事太平,品味与地位的象征。它的招财能力特强,还能辟邪,更能补足磁场,令人活力十足。佩戴它能当幸运符使用,使者逢凶化吉的作用。
Size 12mm beads 
Length: Free size 
14k gold plated jewelry findings. Costume jewelry grade