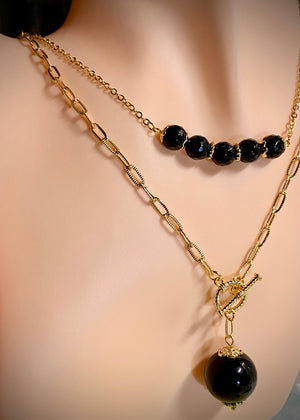 Obsidian Chic Necklace Set
Uniquely designed to be worn two ways, together as a stack or by it self, hence creating three different looks with this necklace. 
*Matching earrings and bracelets also available. Please browse our Earrings and Bracelets collection.
Black Obisidian

黑曜石
Size 17.6mm bead
Length of necklace 45cm, 14k gold plated 
It is a highly protective stone that forms a shield against dark and negative energy. It also promotes qualities of compassion and strength. Wear on the right hand for protection and left hand to attract wealth and luck!
黑曜石有靈性,為你承受所有負面的能量、壓力與憂鬱;可以避邪、保護你不受小人的威脅,它就像是一個默默守護著你的黑騎士,很多時候,它還能為你減緩身體不適喔!戴右手挡负能量,左手招财!

黑玛瑙
Black Agate

Size 8mm faceted beads
Necklace length from 40cm to 45cm , 14k gold plated 

Black agate is a stone of new beginnings, change, and transition soothing deep emotions like grief, anxiety, and anger.
黑玛瑙是长寿之石,具促进幸福及富足之效。能够缓解忧愁、愤怒之感。
*Do not shower with bracelet. Avoid contact with perfume or alcohol. Wipe clean and placed in zip pouch provided and store in cool dry place.