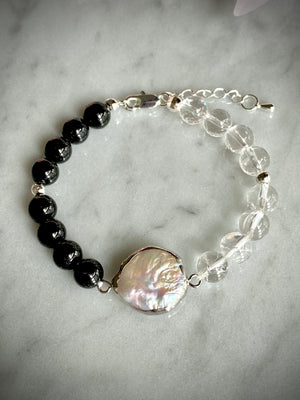 Mother of Pearl Bliss Bracelet
Silver plated Mother of Pearl pendant bracelet, handmade with black rutilated quartz and Azetulite. 


Free size, adjustable chain
7.5mm beads size 
Black Rutilated Quartz
Black rutilated Quartz gives protection against the ill thoughts of others. It helps to reach the root of problems and facilitates transitions and a change of direction. Soothes emotions and relieves fears. It will also offer you power when you need to make good deals when it comes to your business, bringing good luck and wealth.
黑发晶

黑发晶以消除负性能量著称,佩戴可以消除不良浊气,出入复杂的场所、常常需要夜出的朋友,都可以有效的防止不良磁场的干扰。黑发晶也能招来正、偏财哦!

Azetulite is a high vibration stone that will quickly relieve you of anything that causes you unpleasant feelings.
When you use Azeztulite on a regular basis, you will enjoy feelings of peace, serenity, and joy.

Azeztulite is believed to have no negative or neutral energies. It also does not require any kind of cleansing.

白阿赛

阿赛斯特莱水晶是觉醒之石、宇宙中心大太阳的化身、协助地球及其持有者的灵性提升及进化,扩展灵性意识。
被定义为水晶家族中最高频率的水晶,它携带的精神再生力量,可以加速我们的觉醒、并驱散所有恶习,是正面的晶石, 少數不需淨化的晶礦之一.