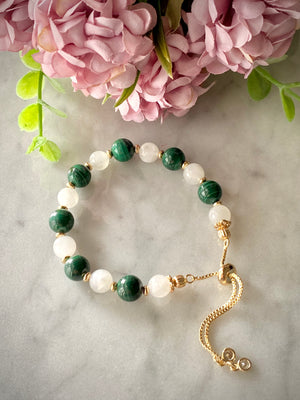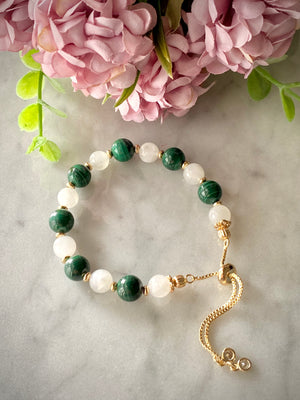 Malachite Bliss Bracelet
One size fits all. 8mm Malachite beads and 7mm Bluemoonstone beads.
Malachite

Malachite is here to help us in times of transformation. For those ever ready to embrace new leaps or clinging to the edge of something, Malachite gifts you the strength to prune your inner branches and say yes to new growth. Malachite can work its magic to balance your body, mind, soul and protects from harm.

孔雀石

孔雀石能够安抚情绪,释放负面能量。它有爱,保护,生意成功和安定的作用, 让佩戴者有勇气做任何事情。它也有警示的功用,在危急时可能会破裂来警告戴的人。
Blue Moonstone
This stone is a very sensual, feminine, and nourishing stone that has the ability to heal what pains you and bring you back to wellness and wholeness.
It's a stone that carries deep healing and sacred feminine energies.
It has high energy rays of blue colors and is always shimmering in powerful white energy, making it a very protective stone.
蓝月光可以稳定情绪,帮助吸收正能量,缓和不安的心情。

蓝月光石也有大量的鉀元素,使人精神百備,鉀元素還能協助代謝脂肪,維持身形,女性配帶有助緩解婦科問題。

*Do not shower with bracelet. Avoid contact with perfume or alcohol. Wipe clean and placed in zip pouch provided and store in cool dry place.