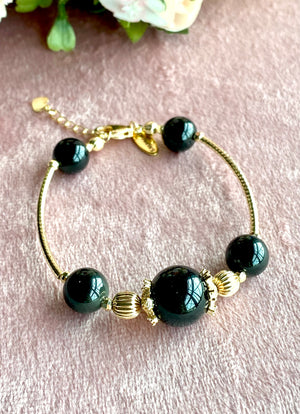 Lucky Obsidian Bracelet
Black Obsidian Lucky Bracelet
黑曜石转运招财手链

Free size. Adjustable chain
14k gold plated

It is a highly protective stone that forms a shield against dark and negative energy. It also promotes qualities of compassion and strength. Wear on the right hand for protection and left hand to attract wealth and luck!
黑曜石有靈性,為你承受所有負面的能量、壓力與憂鬱;可以避邪、保護你不受小人的威脅,它就像是一個默默守護著你的黑騎士,很多時候,它還能為你減緩身體不適喔!戴右手挡负能量,左手招财!
*Do not shower with bracelet. Avoid contact with perfume or alcohol. Wipe clean and placed in zip pouch provided and store in cool dry place.