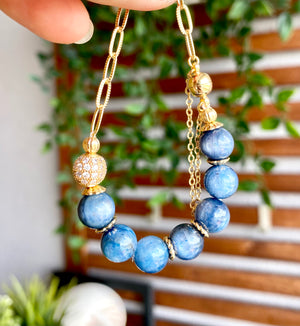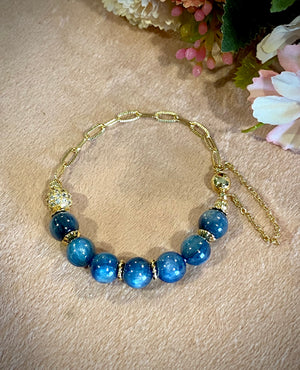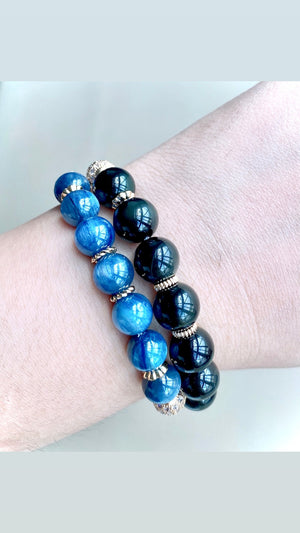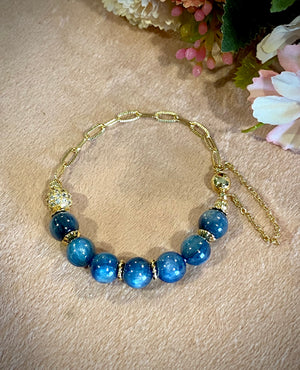 Kyanite Chic
Who says wearing crystals are not fashionable? Wear your crystal jewelry in style with DrJosworkshop! We designed unique one of a kind crystal jewelry that's eye catching and still preserving the beneficial effects of all crystals. Using genuine gemstone crystals and 14k gold plated jewelry findings. Adopt one today!
Collect different crystal bracelets and stack them to create a look that's uniquely you! 
Size of bracelet fits 14 to 16cm wrists
Strong magnetic closure
8mm bead size 
Kyanite
Kyanite has a calming effect on the whole being. It helps with people who are poor with their communication skills, allowing them to express themselves better. Great for people who are in the sales sectors. 
蓝晶石
有助于人们的自我表达与交流。蓝晶石据称可以帮助他们解决迷惑,加强逻辑与线性思维能力。最适合做行销的朋友们哦!

*Do not shower with bracelet. Avoid contact with perfume or alcohol. Wipe clean and placed in zip pouch provided and store in cool dry place.