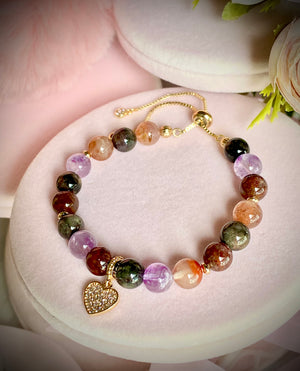 Happy Auralite Bracelet
This entry level grade coloured Auralite 23 crystal bracelet is designed for everyday wear. Pretty on its own or stack with different crystals for a unique look. 


Size 8 mm beads
14k gold plated jewel findings
Free size
Benefits:

Auralite23
Auralite 23 is one of the oldest crystals in the world. It works like a magnet, attracting opportunities, situations & people one needs in order to grow as a spiritual being. Work with this stone slowly & get used to it for a time, as it sweeps away debris from your consciousness. It will bring to awareness both the best in you & what you need to improve so you can grow & strive towards your full potential.
极光23
经常佩戴天然的极光23水晶能给我们带来最大的安全感和幸福感,使佩戴者精力充沛,心情愉快。极光23水晶强大的磁场能量能给我们的生活带来意想不到的惊喜和感动!