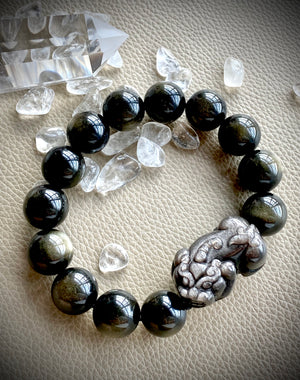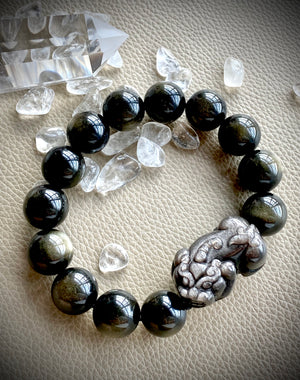 Gold Sheen Obsidian Pixiu Bracelet
Designed with gold sheen beads and black obsidian pixiu, this bracelet will bring lots of luck, wealth and protection for the one who owns it!
Bead size: 14mm gold sheen obsidian beads 
Pixiu: 2.5cm
Bracelet size : 17cm to 19cm (Message us to adjust to desired length)
Suitable for Men. 
Gold Sheen Obsidian
Gold Sheen Obsidian is a stone of magic, known in ancient times as the Wizard's Stone. This unique stone helps us understands and overcomes obstacles in our life. It helps to think clearly and objectively and most importantly shields from all negative energies. In addition, it brings wealth for those who wishes!
金曜石是黑曜石中的极品,它能招财, 而且黑色的原色极度辟邪, 能强力化解负能量, 金色的眼为招财的功神, 两结合在一起,相得益彰。
*Do not shower with bracelet. Avoid contact with perfume or alcohol. Wipe clean and placed in zip pouch provided and store in cool dry place.