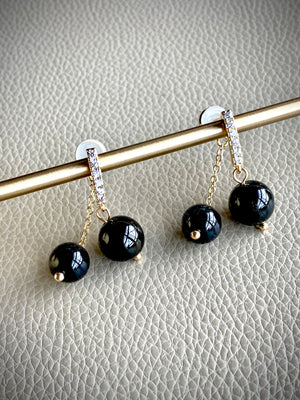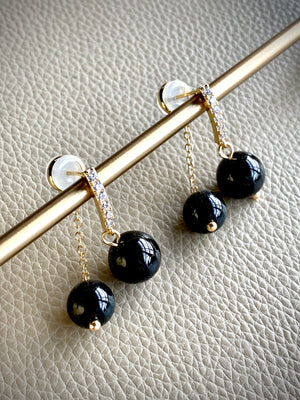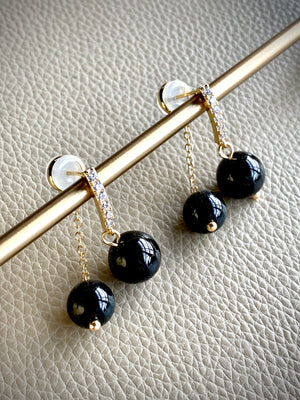 Black in Style Earrings
Combining two crystals to create a unique pair of earrings that will bring you wealth and eliminates negative energies. 


Black tourmaline 10mm bead
Black rutilated Quartz 8mm bead
14k gold plated jewellery findings 
Black Tourmaline
One of the strongest crystals in eliminating negative and evil energies, brings abundance wealth and good fortune. It also helps to keep a focus and calm mind. In addition, Black Tourmaline helps to exude personal charm, hence aids in developing friendships and love.
黑美人碧玺

水晶家族中最聚财、聚福、辟邪的宝石。它能开发智慧,使人冷静、集中,头脑清晰,为你创造更多的事业机会及带来财富。其次,黑美人碧玺能帮助散发个人独特魅力,有助促进友情、爱情的发展。

Black Rutilated Quartz

Black rutilated Quartz gives protection against the ill thoughts of others. It helps to reach the root of problems and facilitates transitions and a change of direction. Soothes emotions and relieves fears. It will also offer you power when you need to make good deals when it comes to your business, bringing good luck and wealth.
黑发晶

黑发晶以消除负性能量著称,佩戴可以消除不良浊气,出入复杂的场所、常常需要夜出的朋友,都可以有效的防止不良磁场的干扰。黑发晶也能招来正、偏财哦!