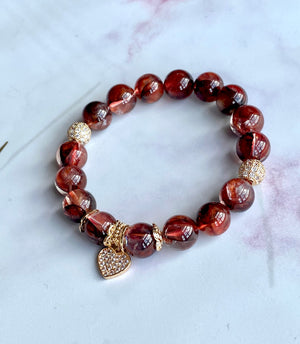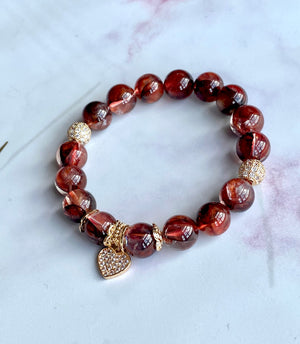 Balancing Bliss Bracelet (Red Hematoid Quartz)
Red Hematoid Quartz Crystal
红胶花水晶
Stretch bracelet, suitable for 15 to 16cm wrists
size 10mm beads 
14k gold plated jewelry findings

Red Hematoid Quartz is a very good grounding crystal. It will calm and quiet your mind, giving you the time to properly process things and sort them out.

It is a crystal that will also dissolve the imbalances and negativities in your life and allow you to enjoy a more balanced energy. It will also enhance your willpower and boost your self-esteem, self-worth, and self-confidence.

红胶花水晶具有宁神静气的功效,能够增强人们的包容心和同理心。 也具有美容护肤的功效,可使人焕发光彩,看起来更有气质。 还具有给人带来好运的功效,能改善人们的工作和学习效率,让自己得到提升。

*Do not shower with bracelet. Avoid contact with perfume or alcohol. Wipe clean and placed in zip pouch provided and store in cool dry place.