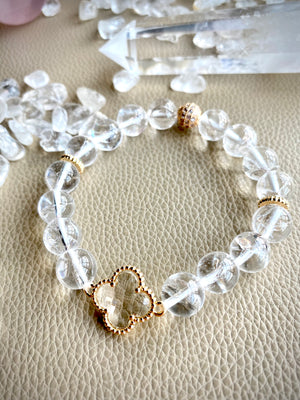 Azetulite Bliss Bracelet
A beautiful Crystal that radiates a beautiful rainbow glow when you rotate the stones. 
Designed with 10mm beads and fits 15, 16cm wrists. Stretch bracelet. 14k gold plated jewelry findings.
Azetulite is a high vibration stone that will quickly relieve you of anything that causes you unpleasant feelings.
I When you use Azeztulite on a regular basis, you will enjoy feelings of peace, serenity, and joy.

Azeztulite is believed to have no negative or neutral energies. It also does not require any kind of cleansing.

阿赛斯特莱水晶是觉醒之石、宇宙中心大太阳的化身、协助地球及其持有者的灵性提升及进化,扩展灵性意识。

被定义为水晶家族中最高频率的水晶,可以加速我们的觉醒。它是正面的晶石,是少數不需淨化的晶礦之一.
*Do not shower with bracelet. Avoid contact with perfume or alcohol. Wipe clean and placed in zip pouch provided and store in cool dry place.