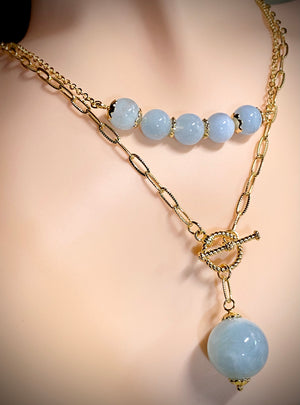 Aquamarine Chic Necklace Set
Aquamarine Necklace set
Uniquely designed to wear them together or separately. Versatile and fun! 
Matching earrings and bracelets also available under Earrings and Bracelets collection. 

Size: 8mm and 17mm bead size
14k gold plated jewelry findings  

海蓝宝水晶
Aquamarine Crystal Gemstone

海蓝宝的蓝色对应喉轮,有助于加强沟通及表达能力,对附近之喉咙、气管、甲状腺等器官极腺体具疗效。常用海蓝宝作冥想,与形而上的力量可达到某种程度的沟通,因而对时间及空间运用都能掌握,是一种象征爱与和平的宝石。

Aquamarine is the birthstone for people born in March.

Aquamarine is its ability to shield your aura and protect you from negative vibrations.

It allows you to tune into your own emotions and to balance any excesses or mood swings. Aquamarine is also a very useful stone for cleansing and aligning your chakras.

*Do not shower with bracelet. Avoid contact with perfume or alcohol. Wipe clean and placed in zip pouch provided and store in cool dry place.