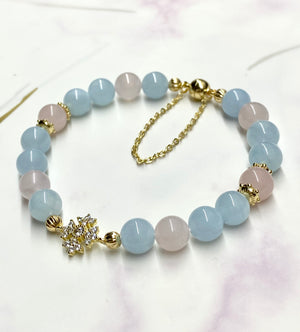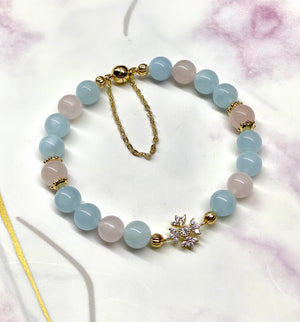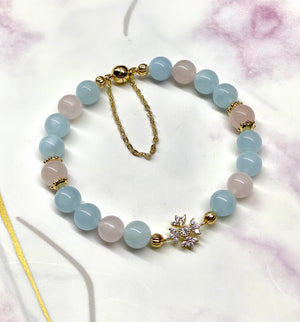 Alice in Wonderland
Aquamarine & Rose Quartz Bracelet with snowflake charm
海蓝宝和粉晶手链 

I named this bracelet after my bestie who loves snow flakes!

size 8mm beads
14k gold plated jewelry findings
Magnetic clasp closure
Suitable for 16 to 17cm wrists
Customisable size. Message Us for more info.

Aquamarine is the birthstone for people born in March.
Aquamarine is its ability to shield your aura and protect you from negative vibrations.
It allows you to tune into your own emotions and to balance any excesses or mood swings. Aquamarine is also a very useful stone for cleansing and aligning your chakras.

海蓝宝的蓝色对应喉轮,有助于加强沟通及表达能力。常用海蓝宝作冥想,与形而上的力量可达到某种程度的沟通,因而对时间及空间运用都能掌握,是一种象征爱与和平的宝石。

Rose Quartz boasts beautiful healing properties for the body and can help improve the circulatory system. It has the ability to align your chakra so you feel connected, comforted, and open to all the possibilities that a joyous life can bring. Many wear Rose Quartz to attract romantic notions of love or improve relationship.
 粉晶,主开发心轮,可松弛紧张情绪,舒缓烦躁心情,让心情平和和开心起来。再来它能协助改善人际关系,增进人缘、生意缘,是开门做生意的最佳利器。
*Do not shower with bracelet. Avoid contact with perfume or alcohol. Wipe clean and placed in zip pouch provided and store in cool dry place.